Best eSIMs for Travel in Singapore
Best eSIMs for Travel in Singapore
Introduction
When it comes to traveling in Singapore, having a reliable and convenient way to stay connected is essential. That's where eSIMs come in. An eSIM, or embedded SIM, allows you to use a virtual SIM card instead of a physical one. With eSIM technology, you can easily switch between different mobile operators and enjoy seamless connectivity without the hassle of swapping physical SIM cards. In this article, we will explore the best eSIM options for travel in Singapore and why using an eSIM is both convenient and affordable for your trip.
The Best Singapore eSIMs
There are several eSIM providers available for travelers in Singapore, but one that stands out is UPeSIM. UPeSIM offers a 6 GB / 12 Days plan that provides ample data for your travel needs. While other competitors like Airalo, Holafly, SimOptions, and Ubigi also offer eSIM plans for Singapore, UPeSIM stands out for its competitive pricing and reliable service. Let's take a closer look at the options available:
How to Choose a Singapore eSIM
Choosing the right eSIM for your Singapore travel depends on several factors. Consider the duration of your trip, the amount of data you require, and whether you plan to visit other countries as well. UPeSIM offers flexible plans to suit different travel needs, making it a convenient choice for most travelers.
Is Your Device eSIM-Compatible?
Before purchasing an eSIM, it's important to ensure that your device supports eSIM technology. Make sure your device is carrier-unlocked and eSIM-compatible. You can check the compatibility of your device by visiting the UPeSIM FAQ page. Additionally, UPeSIM provides an app for Apple and Android devices that can check the compatibility of your device. Remember to unlock your device if it's currently locked to a specific carrier.
How to Buy a Singapore eSIM
Purchasing a Singapore eSIM from UPeSIM is a simple process. Just follow these steps:
Visit the UPeSIM website: UPeSIM Singapore eSIM
Choose the desired eSIM plan and add it to your cart
Proceed to checkout and provide the necessary information
Complete the payment process
You will receive an email with instructions on how to download and install the eSIM on your device
Alternatively, if you are an iPhone user, you can directly download the UPeSIM eSIM app from the App Store. Android users can get the app from the Google Play Store.
How to Install a Singapore eSIM
iOS
Android

Open the UPeSIM app on your iPhone
Tap on "Add eSIM" or "Install eSIM"
Follow the on-screen instructions to scan the QR code provided
Confirm the installation and wait for the eSIM to be activated

Open the UPeSIM app on your Android device
Tap on "Add eSIM" or "Install eSIM"
Follow the on-screen instructions to scan the QR code provided
Confirm the installation and wait for the eSIM to be activated
Benefits of Using a UPeSIM eSIM for Travel
Using a UPeSIM eSIM for travel in Singapore offers several advantages:
No roaming fees: With UPeSIM, you don't have to worry about expensive roaming fees. The eSIM plans are prepaid and provide cost-effective data solutions.
24/7 customer service: UPeSIM offers round-the-clock customer service that responds within 15 minutes. If you encounter any issues during your trip, help is just a message away.
Reviews
Emily - "I used UPeSIM during my trip to Singapore, and it was a game-changer. The eSIM provided fast and reliable internet connectivity, and the customer service was exceptional."
Daniel - "UPeSIM made my travel in Singapore much more convenient. The eSIM plan had ample data for my needs, and I didn't have to worry about finding a local SIM card. Highly recommended!"
Sophia - "I've used various eSIM providers in the past, but UPeSIM stands out for its excellent service. The no-roaming-fee policy and prompt customer support make it a top choice for travelers."
Top 10 Cities and Places to Visit in Singapore
Singapore City - Explore the vibrant street markets and indulge in delicious street food.
Gardens by the Bay - Visit this iconic attraction and witness the stunning Supertree Grove.
Marina Bay Sands - Enjoy the breathtaking view from the rooftop infinity pool.
Sentosa Island - Relax on the pristine beaches and experience thrilling attractions like Universal Studios.
Chinatown - Immerse yourself in the rich Chinese culture and try out delectable local dishes.
Little India - Discover the vibrant colors and flavors of the Indian community in Singapore.
Orchard Road - Shop till you drop at this famous shopping district.
Botanic Gardens - Take a leisurely stroll in this UNESCO World Heritage Site.
National Museum of Singapore - Learn about the history and culture of Singapore.
Clarke Quay - Experience the lively nightlife and enjoy riverside dining.
Top 10 Apps for Travelers with eSIM
Google Maps - Navigate through the city and find the best routes.
TripAdvisor - Discover the best attractions, restaurants, and accommodations.
XE Currency - Get up-to-date exchange rates and convert currencies.
Google Translate - Communicate with locals using real-time language translation.
Grab - Book rides and get around the city conveniently.
Foodpanda - Order food from your favorite restaurants and have it delivered to your location.
Trail Wallet - Track your travel expenses and manage your budget.
Weather Underground - Stay updated with the latest weather forecasts.
Google Pay - Make cashless transactions easily.
WhatsApp - Stay connected with friends and family through messaging and calls.
Language: Key Singapore Words and Phrases
Where is the restroom?
-
Ce suo zai na li?
How much does it cost?
-
Duoshao qian?
Famous Dishes in Singapore
Singapore is renowned for its diverse culinary scene. Here are some famous dishes you must try:
Hainanese Chicken Rice - Poached chicken served with fragrant rice and flavorful sauces.
Chili Crab - Fresh crab cooked in a savory and spicy tomato-based sauce.
Laksa - A spicy noodle soup with coconut milk, seafood, and aromatic herbs.
Char Kway Teow - Stir-fried flat rice noodles with prawns, eggs, and bean sprouts.
Satay - Skewered and grilled meat served with a peanut sauce.
Rojak - A local salad with a mix of fruits, vegetables, and tofu in a sweet and tangy sauce.
Kaya Toast - Toasted bread served with a spread of coconut jam and butter.
Bak Kut Teh - Pork rib soup simmered in a flavorful broth with various herbs and spices.
Currency in Singapore
The currency in Singapore is the Singapore Dollar (SGD). As of current date, 1 SGD is equivalent to 0,69 EUR or 0,73 USD. It's recommended to check the current exchange rates before your trip to ensure you have an idea of the currency conversion. Credit cards are widely accepted in Singapore, and ATMs are readily available for cash withdrawal.
Plugs and Adaptors
The supply voltage in Singapore is 230V, and the standard socket type is the Type G socket. If you are traveling from a country with a different plug type, make sure to bring a suitable travel adaptor. Adaptors can be easily purchased online or at travel accessory stores.
Conclusion
Using an eSIM for travel in Singapore offers convenience, affordability, and seamless connectivity. UPeSIM stands out as one of the best eSIM providers, offering competitive plans and reliable service. With no roaming fees and 24/7 customer support, UPeSIM ensures a hassle-free travel experience. Whether you're exploring the vibrant city or visiting famous attractions, having a reliable eSIM will keep you connected throughout your trip. Make sure to consider the key factors mentioned in this article when choosing an eSIM, and don't forget to try out the famous Singaporean dishes and explore the top cities and places. Enjoy your trip to Singapore with the convenience of an eSIM!
Related products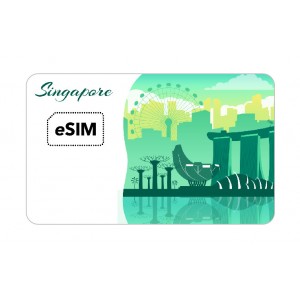 Validity 30 days.
4G LTE Speed.
Rechargeable with a new eSIM.
The validity starts at activation.
Roaming : Singtel.