Best eSIMs for Travel in Malaysia
Contents
Introduction
Traveling to Malaysia can be an exciting experience, but staying connected can sometimes be a challenge. Traditional SIM cards may not offer the convenience and affordability that travelers seek. This is where eSIMs come in. eSIMs are virtual SIM cards that can be installed on compatible devices, eliminating the need for physical SIM cards. In this article, we will explore the best eSIM options for travel in Malaysia.
The Best Malaysia eSIMs
When it comes to eSIM providers in Malaysia, UPeSIM stands out as one of the top choices. With UPeSIM, you can enjoy a seamless travel experience with their 6 GB / 12 Days plan. While there are other competitors like Airalo, Holafly, SimOptions, and Ubigi available in Malaysia, UPeSIM offers competitive pricing and excellent coverage.
How to Choose an Malaysia eSIM
Choosing the right eSIM for your trip to Malaysia depends on several factors. Consider the duration of your trip, your data requirements, and whether you plan to visit other countries in the region. UPeSIM offers flexible plans that cater to different travel needs, ensuring you stay connected throughout your journey.
Is Your Device eSIM-Compatible?
Before purchasing an eSIM, it's important to check if your device supports eSIM technology. Your device must be carrier-unlocked and eSIM-compatible. You can refer to the UPeSIM FAQ page for more information. Additionally, UPeSIM provides an app for Apple and Android devices that can check the compatibility of your device.
How to Buy an Malaysia eSIM
To purchase an eSIM from UPeSIM, follow these steps:
Visit the UPeSIM website: https://www.upesim.com/en/esim-malaysia.html
Choose the desired plan and duration.
Provide your device details and personal information.
Complete the payment process.
Once the payment is processed, you will receive the eSIM QR code via email.
If you have an iPhone, you can also download the UPeSIM eSIM app from the App Store. Android users can download the app from the Google Play Store.
How to Install an Malaysia eSIM
iOS
Android

Go to "Settings" on your iPhone.
Select "Cellular" or "Mobile Data".
Tap on "Add Cellular Plan" or "Add Mobile Data Plan".
Scan the QR code received from UPeSIM.
Follow the prompts to complete the installation.

Open the UPeSIM app on your Android device.
Tap on "Install eSIM".
Scan the QR code received from UPeSIM.
Follow the prompts to complete the installation.
Benefits of Using a UPeSIM eSIM for Travel
Using a UPeSIM eSIM for travel in Malaysia offers several advantages:
No roaming fees: With UPeSIM, you don't have to worry about expensive roaming charges.
Prepaid plans: UPeSIM offers prepaid plans, allowing you to control your expenses.
24/7 customer service: UPeSIM provides customer service that responds within 15 minutes, ensuring prompt assistance if needed.
Reviews
"I used UPeSIM during my recent trip to Malaysia and it was a lifesaver. The coverage was excellent, and the customer service was top-notch. Highly recommended!" - Emily
"UPeSIM made my trip to Malaysia hassle-free. I didn't have to worry about buying a physical SIM card or dealing with complicated activation processes. The eSIM worked flawlessly throughout my journey." - Alex
"As a frequent traveler, I've tried different eSIM providers, but UPeSIM stands out for its reliability and affordability. I had no issues staying connected in Malaysia, thanks to UPeSIM." - Sophia
Top 10 Cities and Places to Visit in Malaysia
Malaysia offers a diverse range of attractions. Here are the top 10 cities and places to visit:
Kuala Lumpur - Explore the iconic Petronas Twin Towers and experience the vibrant city life.
Penang - Known for its street art and delicious local cuisine, Penang is a must-visit destination.
Langkawi - Enjoy pristine beaches and indulge in water sports activities in this beautiful island paradise.
Malacca - Discover the rich history and cultural heritage of Malacca through its UNESCO World Heritage sites.
Ipoh - Experience the charm of Ipoh's colonial architecture and delectable food scene.
Cameron Highlands - Escape the heat by visiting the scenic tea plantations and strawberry farms in the cool highlands.
Kuching - Immerse yourself in the Bornean rainforest and encounter unique wildlife in Kuching.
Kota Kinabalu - Explore the stunning natural beauty of Mount Kinabalu and the nearby islands.
Georgetown - Discover the multicultural heritage of Georgetown and its well-preserved historical buildings.
Johor Bahru - Experience a mix of modern attractions and traditional culture in Johor Bahru, located near Singapore.
Top 10 Apps for Travelers to Use with eSIM
Google Maps - Navigate your way through Malaysia with ease.
TripAdvisor - Find the best restaurants, attractions, and accommodations based on reviews.
Grab - Book a ride and get around conveniently.
Google Translate - Overcome language barriers with this translation app.
XE Currency - Stay updated with the latest exchange rates.
Foodpanda - Order food delivery from local restaurants.
Weather Underground - Check the weather forecast for your travel destinations.
Trail Wallet - Keep track of your travel expenses.
MyRadar - Stay informed about the weather conditions in real-time.
Traveloka - Book flights, hotels, and activities in Malaysia.
Language: Key Malaysia Words and Phrases
Here are some key words and phrases to remember for your trip to Malaysia:
Hello - Selamat pagi (Good morning) / Selamat petang (Good evening)
Thank you - Terima kasih
Yes - Ya
No - Tidak
Excuse me - Maafkan saya
Where is...? - Di mana...?
How much does it cost? - Berapa harganya?
I need help - Saya perlukan bantuan
Goodbye - Selamat tinggal
Famous Dishes in Malaysia
Malaysia is known for its diverse and flavorful cuisine. Some famous dishes include:
Nasi Lemak - Fragrant coconut rice served with sambal, fried anchovies, peanuts, and cucumber.
Char Kway Teow - Stir-fried flat rice noodles with shrimp, cockles, bean sprouts, and Chinese sausages.
Roti Canai - Flaky and crispy flatbread served with curry sauce for dipping.
Laksa - Spicy noodle soup with a coconut-based broth, topped with prawns, tofu, and bean sprouts.
Hainanese Chicken Rice - Steamed chicken served with fragrant rice and accompanied by chili sauce and ginger paste.
Rendang - A rich and spicy meat dish cooked in coconut milk and various spices.
Cendol - A popular dessert made with shaved ice, coconut milk, palm sugar, and green jelly noodles.
Currency Information
The official currency of Malaysia is the Malaysian Ringgit (MYR). As of the current exchange rate, 1 MYR is approximately 0.24 EUR and 0.29 USD.
Plugs and Adaptors
In Malaysia, the standard voltage is 240V, and the frequency is 50Hz. The plugs and sockets used are of the type G, which has three rectangular pins. It is advisable to bring a universal travel adaptor to ensure compatibility with the power outlets.
Conclusion
Using an eSIM during your travel in Malaysia can provide convenience and affordability. UPeSIM offers excellent eSIM plans with wide coverage and competitive pricing. By choosing UPeSIM, you can enjoy a seamless travel experience without having to worry about roaming fees. Stay connected and make the most out of your trip to Malaysia with UPeSIM eSIM.
Related products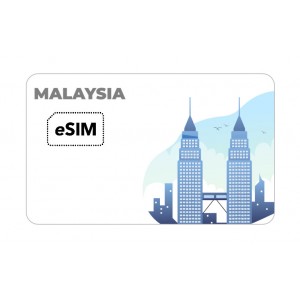 Validity 30 days.
4G LTE Speed.
Rechargeable with a new eSIM.
The validity starts at activation.
Roaming : Maxis.