Best eSIMs for Travel in Italy
Best eSIMs for Travel in Italy
Contents:
1. Introduction
eSIMs have revolutionized the way we stay connected while traveling. In Italy, eSIMs offer convenience and affordability, making them the perfect choice for travelers. Instead of dealing with physical SIM cards and expensive roaming charges, using an eSIM allows you to easily access data plans without changing your physical SIM card.
2. The Best Italy eSIMs
When it comes to the best eSIM plans for Italy, UPeSIM stands out. With their 5 GB / 30 Days plan, UPeSIM offers competitive pricing and excellent coverage throughout the country. While there are other competitors like Airalo, Holafly, SimOptions, and Ubigi, UPeSIM is known for its reliability and customer service.
3. How to Choose an Italy eSIM
When selecting an eSIM for your Italy trip, consider the duration of your stay, your data requirements, and whether you plan to visit other countries. UPeSIM offers flexible plans that cater to different needs, allowing you to choose the best option based on your usage.
4. Is Your Device eSIM-Compatible?
Before purchasing an eSIM, it's important to check if your device is eSIM-compatible and carrier-unlocked. You can refer to the UPeSIM FAQ for detailed instructions. Additionally, UPeSIM provides an app for Apple and Android devices that can check the compatibility of your device.
5. How to Buy an Italy eSIM
To purchase a UPeSIM eSIM for Italy, follow these steps:
Visit the UPeSIM website at https://www.upesim.com/en/esim-italy.html.
Choose the desired plan and click on "Buy Now".
Follow the prompts to complete the purchase process.
If you have an iPhone, you can also download the UPeSIM eSIM mobile app from the App Store: https://apps.apple.com/fr/app/upesim-esim-mobile-internet/id1548434253. Android users can get the app from the Google Play Store: https://play.google.com/store/apps/details?id=com.ogloba.ew.mysim.android.
6. How to Install an Italy eSIM
| iOS | Android |
| --- | --- |
| 1. Open the Settings app on your iPhone. | 1. Open the UPeSIM app on your Android device. |
| 2. Tap on "Cellular" or "Mobile Data". | 2. Tap on "Activate" or "Install eSIM". |
| 3. Select "Add Cellular Plan" or "Add Data Plan". | 3. Follow the prompts to install the eSIM. |
| 4. Scan the QR code provided by UPeSIM. | |
| 5. Follow the on-screen instructions to complete the setup. | |
7. Benefits of Using a UPeSIM eSIM for Travel
When using a UPeSIM eSIM for travel in Italy, you enjoy several advantages:
No roaming fees: With UPeSIM, there are no additional charges for using your eSIM in Italy.
Prepaid plans: UPeSIM offers prepaid plans, allowing you to control your expenses.
24/7 customer service: UPeSIM provides 24/7 customer service that responds within 15 minutes.
Reviews:
"I used UPeSIM during my trip to Italy and it was fantastic. The coverage was excellent, and the customer service was top-notch." - Emily
"UPeSIM made my travel experience in Italy much easier. The eSIM worked flawlessly, and I didn't have to worry about finding local SIM cards." - Luca
"I highly recommend UPeSIM for anyone traveling to Italy. The convenience of having an eSIM and the quality of service exceeded my expectations." - Sofia
8. Top 10 Cities and Places to Visit in Italy
Italy is known for its rich history, culture, and stunning landscapes. Here are the top 10 cities and places to visit in Italy:
Rome - Explore ancient ruins like the Colosseum and visit the Vatican City.
Florence - Admire Renaissance art and architecture, including the iconic Duomo.
Venice - Take a gondola ride through the picturesque canals and visit St. Mark's Square.
Milan - Experience the fashion capital of Italy and visit the stunning Duomo di Milano.
Naples - Discover the vibrant city and indulge in authentic Neapolitan pizza.
Amalfi Coast - Enjoy breathtaking views along this stunning coastline.
Cinque Terre - Explore the colorful coastal villages and hike scenic trails.
Pisa - See the famous Leaning Tower of Pisa and explore the beautiful Piazza dei Miracoli.
Siena - Visit the medieval city known for its Palio horse race and stunning cathedral.
Capri - Relax on this beautiful island and explore its natural beauty.
9. Top 10 Apps for Travelers to Use with eSIM
Here are the top 10 apps that can enhance your travel experience when using an eSIM in Italy:
TripAdvisor - Find the best attractions, restaurants, and accommodations.
Google Maps - Navigate and explore cities with ease.
XE Currency - Convert currencies and stay updated with exchange rates.
Google Translate - Communicate with locals using instant translation.
WhatsApp - Stay connected with friends and family through messaging and calls.
Booking.com - Book hotels and accommodations at competitive prices.
Uber - Conveniently request rides in major cities.
Weather Underground - Stay informed about the weather conditions.
Netflix - Enjoy your favorite shows and movies during downtime.
Google Photos - Back up and organize your travel photos.
10. Key Italian Words and Phrases
Here are some essential Italian words and phrases to remember for your trip:
Hello - Ciao
Thank you - Grazie
Please - Per favore
Excuse me - Scusa
Where is...? - Dove si trova...?
How much does it cost? - Quanto costa?
I would like... - Vorrei...
Do you speak English? - Parli inglese?
Cheers! - Salute!
Goodbye - Arrivederci
11. Most Famous Dishes in Italy
Italy is renowned for its delicious cuisine. Here are some of the most famous dishes to try:
Pizza Margherita - A classic Neapolitan pizza topped with tomatoes, mozzarella, and basil.
Pasta Carbonara - A creamy pasta dish made with eggs, cheese, pancetta, and black pepper.
Lasagna - Layers of pasta, meat sauce, and cheese baked to perfection.
Gelato - Italian ice cream available in various flavors.
Risotto - Creamy rice dish cooked with broth and ingredients like mushrooms or seafood.
Tiramisu - A popular dessert made with layers of ladyfingers, coffee, mascarpone cheese, and cocoa.
Bruschetta - Grilled bread topped with fresh tomatoes, garlic, and basil.
Ossobuco - Braised veal shanks cooked with vegetables, white wine, and broth.
Caprese Salad - A simple salad made with tomatoes, mozzarella, basil, and olive oil.
Prosciutto e Melone - Thinly sliced cured ham served with melon.
12. Currency in Italy
The currency in Italy is the Euro (EUR). It is widely accepted throughout the country. When comparing to USD, the exchange rate may vary. It is advisable to check the current rate before exchanging your currency.
13. Plugs and Adaptors in Italy
In Italy, the standard voltage is 230V, and the frequency is 50Hz. The plugs and sockets used are of type F and L. It is recommended to bring a universal travel adaptor to ensure compatibility with Italian outlets.
14. Conclusion
Using an eSIM while traveling in Italy offers convenience, affordability, and flexibility. UPeSIM is a top choice for eSIM plans, providing reliable coverage and excellent customer service. With UPeSIM, you can stay connected without worrying about roaming fees. Additionally, UPeSIM offers prepaid plans and 24/7 customer support to enhance your travel experience. Make sure to choose the right eSIM plan based on your travel duration and data requirements. Explore the top cities and places in Italy, try delicious Italian dishes, and use the recommended apps to make the most of your trip. With an eSIM from UPeSIM, you can travel in Italy with ease and stay connected throughout your journey.
Related products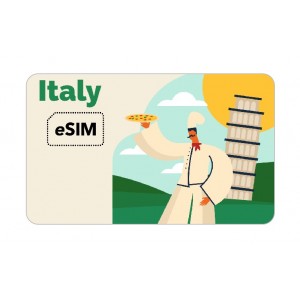 Validity 30 days.
4G LTE Speed.
Rechargeable with a new eSIM.
The validity starts at activation.
Roaming : Wind.